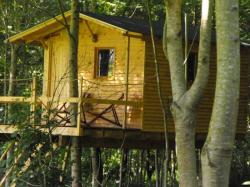 Cabin in the trees
There is only one trapper in Picardy : Jonathan WHITE, known to everyone as John. He built his cabin in the trees bordering Delville Wood at Longueval (Picardy) perched at a height of 3 meters between 4 ash trees. As he got older he made some stairs for easy access.
Often he busied himself amongst the trees, resetting his traps, selling his skins in town or simply having a walk. In his absence he entrusts to you his 12 m2 cabin which is modest but well fitted out. There is a double bed, a place to wash with a water container, a basin, a dry toilet, a table, 2 chairs and a gas ring to reheat the soup. There is also a heater with a supply of wood for the cold evenings.
From the terrace under the overhang and in the clearing you might come upon a deer at dusk…
There are no neighbours, no electricity, no telephone, just forest, its inhabitants and you. Maybe you will be surprised to see John coming back!
If you want to sleep in John's cabin, you must call to check that he is still wandering in the wood.
06.87.14.57.88